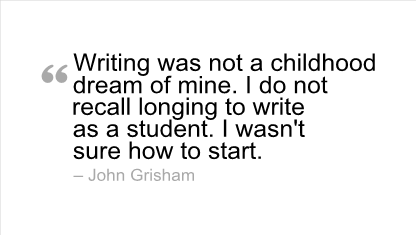 Quotes About Writing
February 17, 2015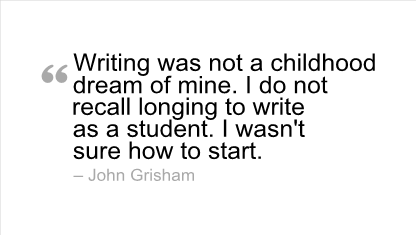 Writing quotes are everywhere.
Some people want them because it gives them some sort of perspective on their own writing journey. For others, it is about the need to feel a sense of belonging to the writer whom they admire, but they can't get the one-on-one time they want. A new writer needs support as much as a more experienced writer. It's about the process or the journey this life takes you, and how far you are willing to grow and go.
One way is to think of the writing quotes which mean the most to you and go from there.
I happen
to love the quote above, because although I did enjoy writing, I didn't hit my stride until later on.  Reading this from John Grisham made a difference to myself as a writer.  I'm a slow learner and this quote tells me that I can be more than what I was here.
I might not be an American, but I find Benjamin Franklin is one of my most powerful influences when it comes to writing, and editing. Just write, and this goes for a blog too.  If you think that what you are writing might not think it is worth writing about, then think about what should be.
Writing something worth reading also means going out of your comfort zone, and just trying that one more time.  Franklin didn't sit on his bottom and complain that the world wasn't what he wanted, he wrote suggestions for some changes, and invented and pushed for some extreme measures, that before this time the world hadn't thought of.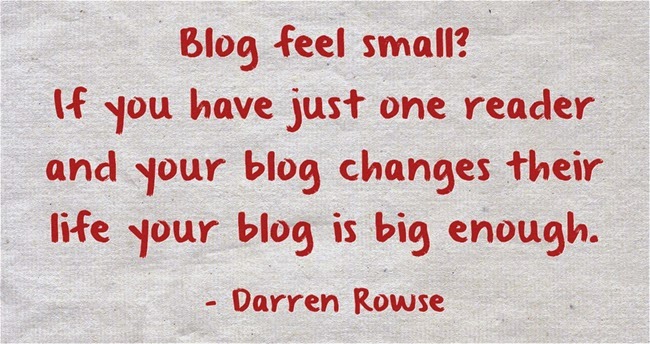 In both cases, he did exactly what he said in this quote.
Blogging is also about writing, and this quote reminds me no matter what, a blog is always big enough.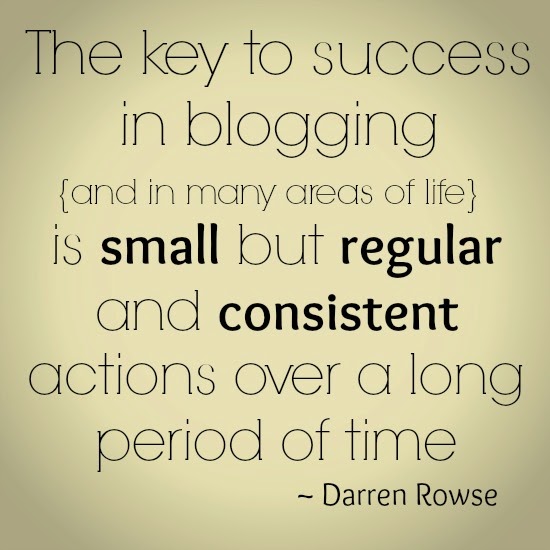 Blogging, writing, publishing? It's all the same idea when it comes to success. An old saying goes "if at first you don't succeed" (the rest is left up to the reader- but the common ending is "try, try again") Failure is okay, but you have to know that you, and your writing is out there for people to reading.
Success is not a million dollars to begin with, success is seeing the good in what you do each day and where you.  Failure sucks, even I'll say that, but it's like everything else, you try and find the success in what you have done and then just do it in a different way.
In many areas of life?
It's true, get up early and read a book, and over time you'll be smarter and feel you've accomplished something.  Small changes are usually easier on the body than larger.  Writer, and people, can become a bit lazy when they think of what they have done.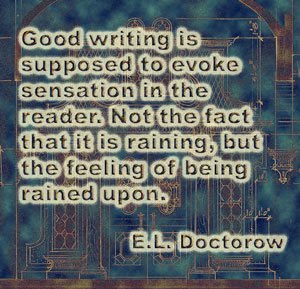 E.L. Doctorow, whose famous book "The Book of Daniel" made me see how much I have to go as a writer, is one of my most quoted writers because it's a constant reminder of what writing is supposed to be about.
Professional or not, it's a good thing to keep on writing, no matter what.  You show the feelings of the characters, and give them life with your writing.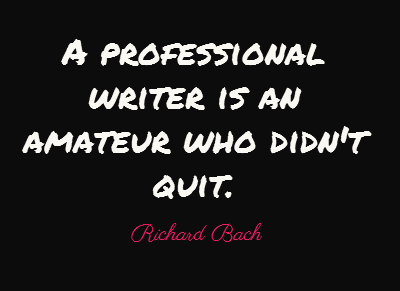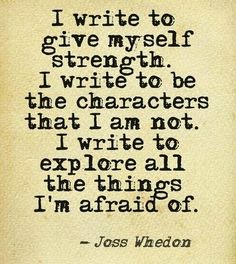 Richard Bach is also a good quit, because you should not quit, just think of a different plan.
Does anyone love the Avengers or Buffy the Vampire Slayer? (I'm sorry for any DC people but Whedon is the one working on Avengers…. and it's Marvel.)
This Joss Whedon quote sums up how I feel about writing fiction, it gives me the chance to explore everything I normally would not.  My character can be everything I'm not, but can also be brave about things I am not normally brave about.
My writing is my way of both learning and exploring and it is important to keep thinking that you can be more as a writer, than you can any other way.
And the last one, about creating themselves and writing. Orson Scott Card says it best- become a creative writer.  The writer is a piece of the writing.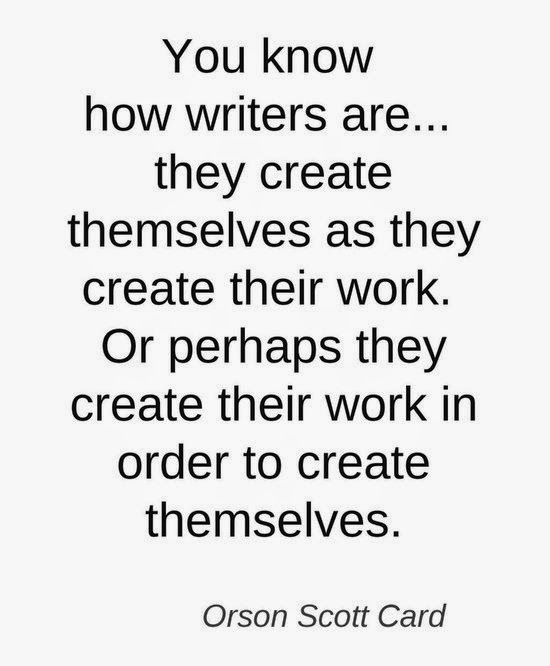 You can create the novel or the non-fiction, and get lost in the process of writing.  You can dream it and build it, and become that character or this character.  It's a part of you. (The same as writing a blog post.)
Quotes about writing are good for any writer, since this is the way they can learn to relate to others, and build on their own writing skills.  Writing quotes, are only good enough if you can parlay them in your own writing.
You May Also Like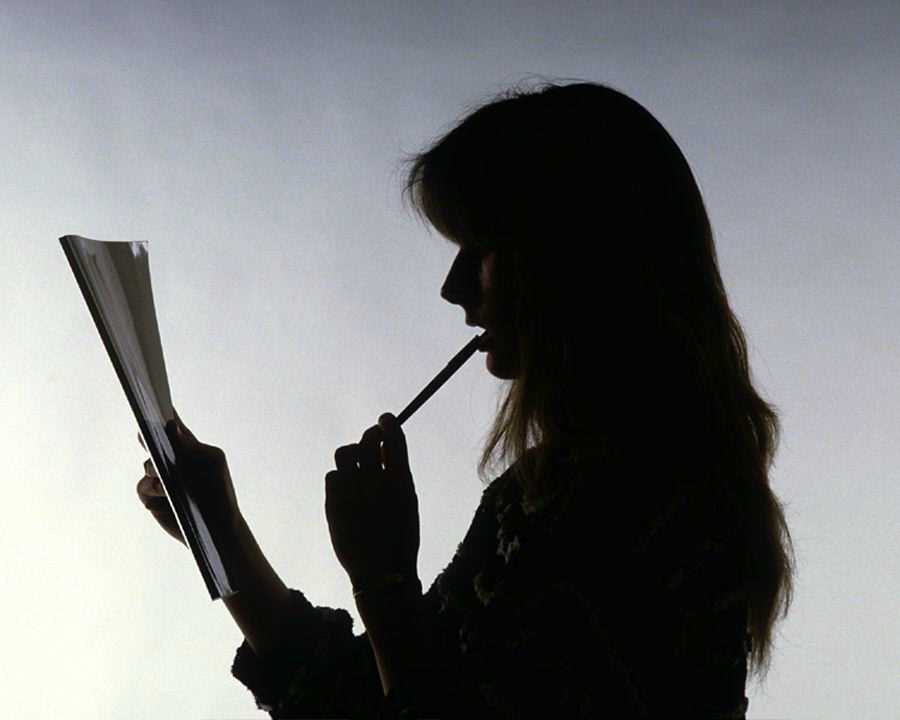 July 21, 2013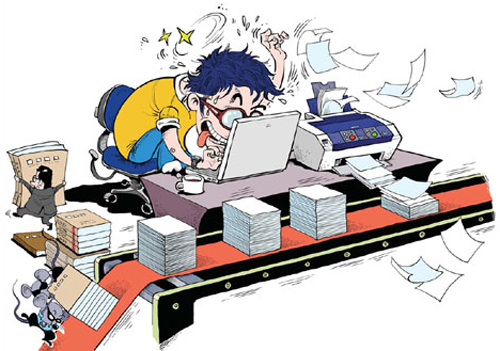 September 2, 2013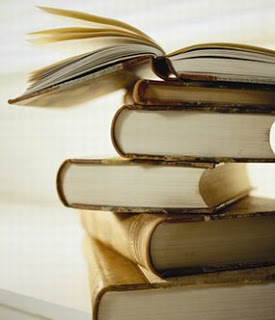 December 4, 2011