Why Write?
February 25, 2010
I Write because I love writing.
A lot of people love writing, but they forget their goals in the process of writing.
I write to teach and to learn about new things, and it is important that my goals never change. If you goals are not set, you might never get to them.
Why write?
Write because you love it. Live a life of Writing.
Writing is what it is about.
You May Also Like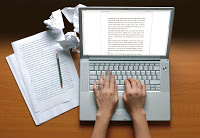 March 27, 2009